New Horizons Takes First Color Image of Pluto and Charon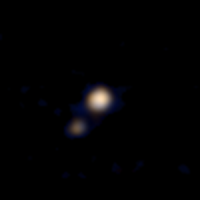 Heading towards Pluto at over 30,000 mph, the New Horizons probe has snapped the first ever color image of the Pluto-Charon system by a spacecraft on approach.
The color image of Pluto and its largest moon Charon was taken from a distance of about 71 million miles (115 million kilometers) on April 9 by the Ralph Color imager.
Ralph is an optical instrument that can record in both visible and infrared light. Its primary use will be in mapping surfaces and providing thermal images. Ralph is one of seven scientific instruments aboard New Horizons. Together, these instruments will allow scientists to investigate the surface geology, composition, atmospheric pressure, and temperature of Pluto and its moons.
Over the coming weeks, as New Horizons gets closer to the Pluto system, we will "eventually see surface features as small as a few miles across", according to NASA.